"With the passage of the this bill, An Act Relative to Transgender Equal Rights, transgender residents of the state of Massachusetts will have long-awaited vital protections in employment, education, housing, credit, and hate crimes which they desperately need. The bill offers represents an historic step forward in supporting full civil rights protections for the transgender community. The bill does not include public accommodations protections, so while we are celebrating the tremendous protections it does offer, we need to be mindful of our continued need to work to ensure equal access and opportunity for all residents regardless of how they identify or express their gender identities."
—
Ruben Hopwood, Coordinator of the Transgender Health Program at Fenway Health in Boston
(via The Rainbow Times | "Reactions to the MA House & Senate's Passage of the Transgender Equal Rights Bill: Community Leaders Speak Out")
As Huffington Post reports:
Massachusetts will become the 16th state to treat transgender citizens as a protected class after legislature passed the Transgender Equal Rights Bill, which not only adds protections to the state's civil rights laws against employment, education, housing and credit discrimination, but also adds gender identity and expression to the state's hate crimes law.

As the Associated Press is reporting, the bill, which still needs routine final approval votes in both branches, was approved by the Senate Wednesday morning on a voice vote. The House passed the bill late Tuesday after Democratic leaders moved to limit debate to one hour, effectively cutting down on opponents' amendments.

After it receives final approval votes in both branches, the bill will move forward to Governor Deval Patrick, who told The Boston Globe yesterday that he plans to sign it. "I think we have hate crimes on the books today," he said. "They, in the case of transgender people, don't go far enough."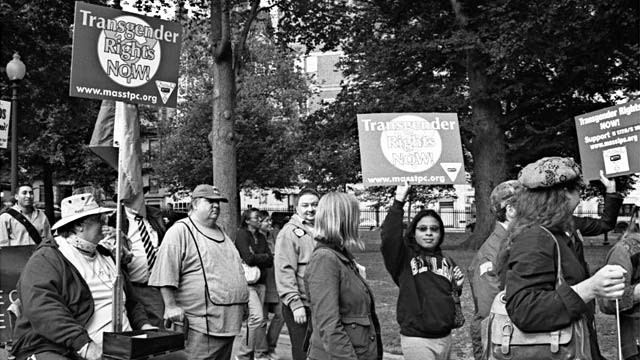 This bill survived some really awful testimony from Republican leaders who used scare tactics and "the bathroom argument" repeatedly. I am personally so proud to be a legal resident of this state and feel immensely more secure and safer after the passage of this bill. Certainly this is not a magic switch that has been flipped, but I believe it is a huge watershed moment in changing sentiment, and its legal effects will soon be felt by trans people across the state, as we are no longer allowed to be treated as second-class citizens (and felt by non-trans people who may for the first time have the benefit of working with us, living with us, and learning with us).
Some more beautiful and eloquent responses from trans community leaders:
"Having protections in place at the state level will help tremendously in being able to advocate for policies and practices that support rather than discriminate against transgender people at the institutional level. I finally feel included in the state in which I live and work."  
— Genny Beemyn, Director, the Stonewall Center, UMass Amherst
"The lives of our Transgender family members is about to change. And finally, for once, for the better. This is a great day in our state and we applaud the incredibly dedication of MTPC and its partners who worked tirelessly to ensure the passage of this legislation. Today, we celebrate! 
– Keri Aulita, Boston Pride Deputy Director

"This bill adds "gender identity" to the state's non-discrimination statute and will amend existing hate crime laws to explicitly protect people targeted for violence and harassment joining other protected classes such as race, religion, creed, color, national origin, and sexual orientation. Massachusetts joins the 13-15 other states that have this protection as well as the many businesses that include trans protections as well.

"… As a young trans woman I've been lucky, but I've still experienced employment and housing discrimination and have endured harassed on the streets, at school and even in health care settings. All this discrimination adds up to have severe health consequences for transgender people and it's no wonder that a recent national trans survey showed that 41% of trans people have attempted suicide which is around 20x higher than the general population. To cope, many of us use substances, drink, use tobacco because of crippling rates of depression in this community, but when we go into doctor's offices, we're often either completely refused services, experience harassment or receive substandard care.

Fortunately we have a tool to do something about this endemic discrimination. We have rights in Massachusetts, finally! This is a major step in the right direction, but we'll need to work together to ensure this is enforced so that transgender people have the same fairness in this society that most take for granted. I can't speak more strongly about the supreme monumental importance of this bill!!"
— Emilia Dunham, Senior Research Associate, The Fenway Institute

"This is a bright day in our Commonwealth, as was the Goodrich decision (2003) and the day in 1988 when bills were signed into law (under Gov. Dukakis) to protect lesbians and gay men from workplace discrimination.

Whenever one state takes a stance for civil rights, the reverberations cannot be underestimated.  May the mainstream public gain compassion and understanding for people who deserve nothing less.

Marginalized peoples have different struggles AND shared joy in victory.  This is a happy day for all of us.
— J.M. Sorrell, Director, SAGE Western Massachusetts 

"For a state that was second in the nation with gay rights in 1989, and first in the nation with same-sex marriage in 2004, non-discrimination protections for transgender people are long overdue."
— Joanne Herman,Author of Transgender Explained For Those Who Are Not, Board Member, Fenway Health

"We give thanks to the legislators who assisted in this endeavor of the Transgender Equal Rights Bill. Congratulations to all! This will show the state, the region and the Nation that legislation like this one are needed and that it will provide equal rights to all in our society. This will provide our transgender brothers and sisters with the recognition and rights that they deserve!  Congratulations to MTPC, Rep. Sciortino, and all who participated in this process and who have been instrumental in making this Transgender Equal Rights a reality!" 
— Wilfred Labiosa, CASPAR Executive Director & Boston Pride Vice-President
Official statement from Massachusetts Transgender Political Coalition here: Transgender Equal Rights Now a Reality in Massachusetts